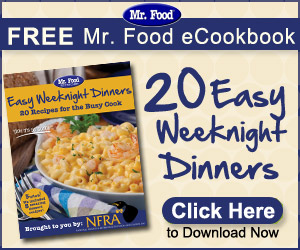 All you need to do is simply enter your email address to be able to snag this freebie! Just "Skip" the next 2 offers to be taken to the ebook. Yes that's right ONLY 2 little "skips", not page after page!
Strawberry Pretzel Bars
Ingredients
2 cups finely crushed pretzels
3/4 cup (1-1/2 sticks) butter, melted
1 cup plus 3 tablespoons sugar, divided
2 (4-serving) packages strawberry-flavored
gelatin
2 cups boiling water
1 (16-ounce) package frozen strawberries (See
Note)
1 (8-ounce) package cream cheese, softened
1 (12-ounce) container frozen whipped topping,
thawed
Directions
1. Preheat oven to 400 degrees F. Coat a 9- x 13-inch baking dish with cooking spray.
2. In a medium bowl, combine crushed pretzels, butter, and 3 tablespoons sugar. Press mixture into bottom
of baking dish. Bake 8 minutes; let cool.
3. In a large bowl, dissolve gelatin in boiling water. Add strawberries and chill until slightly thickened.
4. In another large bowl, with an electric beater on medium speed, combine cream cheese and remaining
sugar until smooth and creamy. Fold in whipped topping and spread evenly over pretzel crust.
5. With an electric beater on low speed, beat gelatin and strawberries until berries are broken up. Spread
over cream cheese layer. Cover and chill at least 4 hours, or until firm.