I have been very careful when researching the possibility of adding a new line of credit or credit card into our home. Our family needs to be sure that the credit card being offered is a good fit for us, as well as for our finances. Recently I have come across the Williams-Sonoma Signature Card and am impressed by not only the easy terms, but the great benefits that comes along with being a card holder.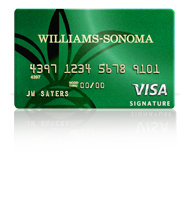 The first benefit that caught my eye was the "Free Online Shipping For One Year", this would be huge savings for our family. Within the last year I have been purchasing a lot of our items online and the deciding factors on many of these purchases was the shipping cost. Having free shipping for a whole year could save hundreds, if not thousands depending on how much of your household purchases are made online.
After your first purchase with your Williams-Sonoma Signature Card, they will award you 2500 bonus points. These bonus points can be redeemed for gift cards, which could make for a nice way to save up for Christmas. This something that I do with most of the gift cards or reward points I earn from various places, it goes into our specified Christmas Fund. William-Sonoma's reward program is not unattainable either, which is very refreshing, that 2500 bonus points equals a $25.00 gift card. Simple as that. You are able to quickly obtain more reward points, just go here to learn more on how to do so. This card has no annual fee that saves you even more money.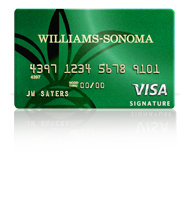 If you are a soon to be blushing bride, William-Sonoma is catering to you! All purchases on items registered on your Bridal Registry will earn you extra reward points. What a way to celebrate your new beginning!
Is your interest in this signature credit card just a little piqued? Then check out even more details by heading over to the Williams-Sonoma Visa Signature Credit Card webpage. Let me know what you think. I am beginning to firmly believe that this just might be a perfect fit for our family and our needs.