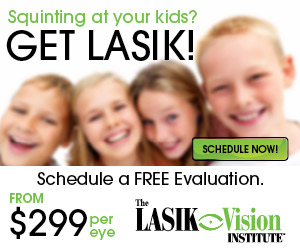 Click above to get your own Lasik Evaluation to see if it is right for you!
This was very easy to schedule, just enter a few details and pick a date. I went out to February, but that is because I am squimish when it comes to anything that has to do with eyes. I am one that can't use liquid drops, no matter how hard someone else tries to do it for me.
But I also hate wearing glasses, so why not at least check it out-right? This made me feel a little bit better, LOL.
Clinically Proven Safe and FDA Approved - LASIK is our sole focus, so you can receive safe, reliable and quality vision correction.

Leading LASIK Doctors - Performed by some of the country's top independent surgeons (over 900,000 procedures performed)

Life Changing - 98% of patients see 20/20 or better following their procedure (CustomVue technology).

Customized for You - whether you are nearsighted, farsighted or have astigmatism, we personalize a vision correction treatment plan that is right for you.

Flexible Scheduling - we offer you many scheduling options and convenient national locations.

Affordable - LASIK doesn't have to be expensive, so don't be overcharged by other LASIK providers.