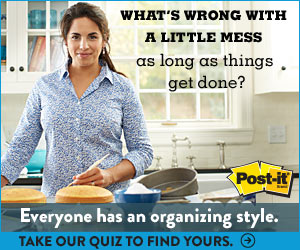 This is one of my "need to seriously work on area's" in my life. I took the short multiple choice quiz out of curiosity, and I must say it was pretty accurate.
Here are my results: I am an improviser, honestly I think I am a disorganized, procrastinating improviser. I have piles upon piles of paperwork,magazines, and what-not all over the house. BUT when asked where something is, I know what pile it should be in.
What were your results? Were they accurate?
I have always loved Post-it notes, I tried once to use them to get organized. Well, the results were mixed- I was able to jot everything down and have all the information at my fingertips, BUT the post-its became almost like "wall paper". They were everywhere, on everything!
This year I am taking on the challenge of becoming organized, maybe not Martha Stewart organized. I would like to have a good system in place within the next few months.
I signed up for the Post-It Perks Program- very easy to do just enter your email and a few other details, this is located under the "Connections" Tab at the top of the page or look in the side bar. As a Post-it Perks! member, you'll be the first to enjoy the following benefits:
• New, innovative product announcements
• Relevant productivity and organizational solutions
If you would like to take on this challenge yourself, don't forget to check out the "Special Offers" tab at the top of the page. Here you will find money saving coupons and some unique ideas, as well!
Visit the Post-it Facebook page to see what others are sharing. There are some great ideas and pictures being shared. Also, take a moment and check out the "Find Your Color Personality" Quiz.
Again this is just for fun, I ended up being a Farmers Market, LOL. Well, I must say I do enjoy going to them!