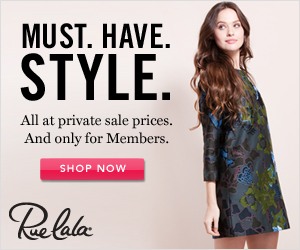 Rue La La is the members only online destination to discover premier-brands, all at 30%-80% off retail. Find the best brands and products in fashion, home, kids, travel and more.

They launch over 8 new boutiques a day, so Rue is your source for daily shopping content. Boutiques are open for just 48 hours and the majority launch at 11am EST.
What is nice about this site is that it is not just about selling, the Rue La La blog has helpful articles like this one
about "Organization Solutions: Get Organized-Storage For Every Room!"
Or how about a great project like this one?

Rue Road Test: Ombre Dip-DyeCreate a one-of-a-kind chambray shirt with this simple trick
What you'll need:

• Medium- to dark-wash denim button-down shirt
• Bucket that can hold at least 10 cups of water
• 4 cups warm water
• 4 cups bleach
• Elastic band
• Rubber gloves
How to do it:
Well for that you will have to visit the blog and find out!