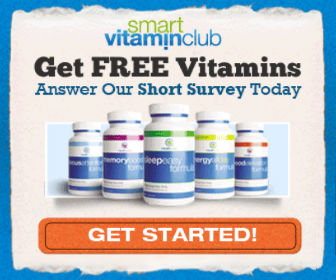 Have You Gotten Your
Free Bottle Of Vitamins Of YOUR Choice, Yet? Take A Very Short Survey {Only A Few Clicks} Pay only .99 Cent Shipping
What Is Nice Is This Is A NO Obligation Offer, No Strings Attached, Nothing To Cancel!
Your Free Bottle Choices Are Based Off Your Quick Quiz, My Choices Ended Up Being From- Sleep Easy, Mood Elevation, Or Focus Attention....LOL, wow that makes me look like a fun person to be around huh?
These bottles of vitamins range in price from $25-$40, so you are not getting those cheap dollar store type vitamins. I have taken some time to explore the SmartVitaminClub website, and you are sure to find a huge assortment of Vitamins & Supplements to aid in having a healthier life.
If you choose to become a member of SmartVitaminClub, after you try your free bottle, there are some amazing club member benefits:
1) Member Get Up To 50% Off The Purchase Price
2) Free Shipping At All Times
3) Free Bottle Of Vitamins Each Month
4) And You Have The Option Of Getting Even More Free Vitamins Each Month For Every 3 Friends You Have Join.