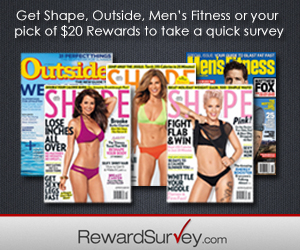 FREE magazine. You have to take the survey, then it will reward you with 'rewards points'.. spend them on the magazine you would like.
When you take the survey, the magazines that you are offered depends on how the questions are filled out.
There are about 20 multiple choice questions, very quick to answer. Then step 2 is a drop down menu of your employment
category
Once you get this done, it should on take about 2 minutes, you will see this message:
Congratulations! You have earned $20 in Reward Points. Use them to get any of these great rewards.
You have the option of a $10, $15, or $20 level magazine choice. Don't feel obligated to take the $20 choice, you can choose the one you like the best.
Personally, I was torn between the Business Magazine, Outside Magazine, and Shape. I ended up choosing Shape because fitness is one of the things I would like to work on this year. I am going to receiving 24 Issues, all for free.
Next step after making your choice is to enter your mailing address! Put Your First name in the "Business name slot" and under that put your last name. Those 2 fields need to be entered into, to allow it to submit.
The next screen will offer 3 Choices, you do not have to click anything, just go to the "Continue" button. And you are DONE!!