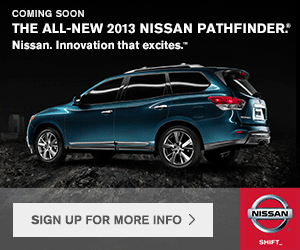 Are you in the market for a new vehicle in 2013. Check out the New Nissan Pathfinder, register for emails to get info on the latest updates, photos and news.
The 2013 Pathfinder is roughly 4.5 inches wider and about that much longer than the previous Pathfinder, the new one is some 500 pounds lighter, which means
less power and, in turn, less fuel.
Spending less money on fuel is a huge selling point for our family, well for me anyway.
Check out all that space! I can easily fill that up with groceries from just one of my monthly trips. Instead of trying to crush items to fit in our car that we have now. I could probably even take a couple of the kids, if they even had the notion of joining me.
{Photo Credit}