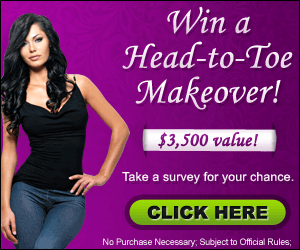 Winning never looked so good! Take a survey now for your chance to win a complete makeover. That's $3,500 for new clothes, accessories, makeup, and hair treatments. Don't miss your chance!
I am going to mention that after your initial email and birthday entry, you will then have to fill out your address...after that there is about 10 pages of questions, MOST you can just skip by going to the bottom of the page. The ONLY questions that you are required to answer are represented by a red "*". These are sporadically thrown throughout the pages.
Once you get past that you will see this message: Once you see it you are done..It took me only 2-3 minutes to complete, but that is because my kids were distracting me.
Congratulations! Your sweepstakes entry was successful,
and you have qualified for a bonus gift!