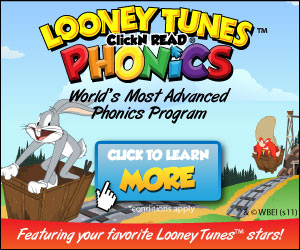 Looney Tunes Phonics is an online learning to read program that combines the research-based curriculum of the award-winning Click-N-READ Phonics program and the zany antics of the world famous Looney Tunes characters.
Looney Tunes Phonics introduces the new character Professor Wizbot, who teaches your child how to read the same way it's taught in the live classroom setting. Children master phonics in an interactive environment that's a lot of fun and very easy to use.
Looney Tunes Phonics c
ontains the entire kindergarten to 3rd grade language arts reading curriculum taught in public schools nationwide. Looney Tunes Phonics contains 100 interactive phonics lessons and reward children with brand new Looney Tunes animation between the educational segments of the program. This program works great for any kind of learner struggling with reading, even children with Autism and people learning the English language.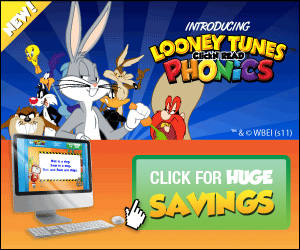 And check out the promised
guarantee
:
You can cancel your subscription at anytime. If your child completes all 100 lessons and is still unable to read, we will refund your money