I have recently signed up for the free account at Audible, I am still looking around for my free audiobook. There are just so many great titles I can't choose. I am excited about finding audible, I barely have the time to read a lable on a cleaning bottle anymore. I have always been an avid reader, nose buried in a book, but since the kids I have lost the time to enjoy reading a book-an adult book.
I have plenty of time to read through bedtime stories, but as much as I love Dr. Seuss, Goodnight Moon, and all the others, I am not thrilled about them.
Audible.com will allow me the chance to do what I need to get done, AND actually listen to a book I enjoy. That is, if I ever get around to finally picking one. I love to read almost an genre, so with the amount of options available at audible it is proving difficult.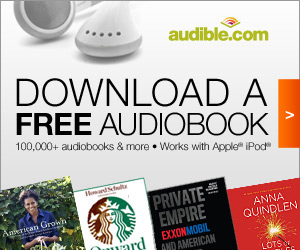 Download a FREE Audible audiobook today! Fifty Shades of Grey anyone?? Get your first 30 days of the AudibleListener Gold membership plan free, which includes one free credit which typically equals one audiobook.
Choose from over 100,000 audiobooks!

After your 30 day trial, your membership will automatically renew each month for just $14.95, billed to the credit card you used when you registered with Audible.
With your membership, you will receive one credit per month plus members-only discounts on all audio purchases. If you cancel your membership before your free trial period is up, you will not be charged.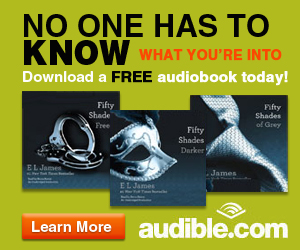 Here are some examples that you will find available:
Fifty Shades of Grey: Book One of the Fifty Shades Trilogy



Some for the kids:
Magic Tree House Collection: Books 1-8
Diary of a Wimpy Kid: Cabin Fever
How to Break a Dragon's Heart
There are thousands of choices. What is best about audible besides the ease of use, is that it is PERFECT for homeschoolers! Every possible topic is covered, saving me time from trying to hunt down extra supplemental activities for any given unit.
The benefits of audible are going to be huge for me. Take a look, try it out free!