You should be able to easily get your prescription from your eye-doctor. I was able to call and request to have my prescription faxed to me. This is nice because I was able to get all the kids prescriptions too. I never thought that I would ever need to have that information on hand, but because of these offers I now know better.
These offers are going to allow me to get new glasses/contacts for almost everyone in the family, at little to no cost! Talk about a HUGE money saver AND TIME saver!
Try it on at home! If it doesn't fit, return shipping is free!

Coastal.com believes you will be so blown away by shopping with them that they are giving you your first pair of glasses free!
USE CODE: FIRSTPAIRFREE (includes standard lenses).
Available for first time glasses customers only.


Shipping charges up to $20 apply. Lenses upgrades and coatings are available at additional cost.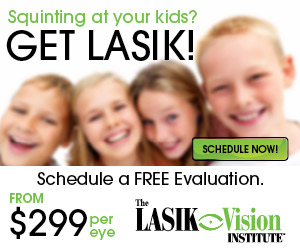 Clinically Proven Safe and FDA Approved - LASIK is our sole focus, so you can receive safe, reliable and quality vision correction.Leading LASIK Doctors - Performed by some of the country's top independent surgeons (over 900,000 procedures performed)
Life Changing - 98% of patients see 20/20 or better following their procedure (CustomVue technology). Customized for You - whether you are nearsighted, farsighted or have astigmatism, we personalize a vision correction treatment plan that is right for you. Flexible Scheduling - we offer you many scheduling options and convenient national locations. Affordable - LASIK doesn't have to be expensive, so don't be overcharged by other LASIK providers.
Here are two offers for free month's supply of contacts! Depending on which brand you prefer, you just click the offer you would like to try. Or if you would like to get some for other members of your family then fill use both. You may have to start an account for yourself and then another person, so that the short survey can be taken for the free trial!