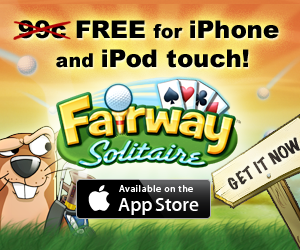 Fairway Solitaire by Big Fish
Free App download through iTunes.

You can get a free code for the full/paid Fairway Solitaire iPhone/iPod touch game.
The normal retail price is $0.99
The much-anticipated sequel and one of the most exciting and addictive card games available includes solitaire hands dealt on more than 350 hand-crafted golf holes, 4 mini games, 32 trophies, a golf shop, golf announcers, hazard cards, and one SERIOUSLY ticked off gopher!
Follow this hilariously sarcastic story of the gopher and his seething disdain and desire to put all golfers in their place! From beachside courses where palm trees sway, to the hustle and bustle of illuminated city courses, keep your eye on the prize because there is nowhere this gopher won't follow.
Score the best runs by clearing the card deck using the least amount of moves, and don't forget about those mulligans! Whether scoring a double bogey or 3 under par, this hit will have you laughing so loud you'll forget to be quiet on the golf course!