I enjoy being able to save time searching for great deals. That is probable why I sign-up for any site that offers to do everything for me. Bradsdeals not only hunts down the best deals, they offer coupon codes, and other sales promotions.
This saves me from going back and forth between a half-dozen websites looking for this information. I highly suggest checking out bradsdeals! What could be better than a website that offers all of this at the simple click of your mouse. How about the fact that it is FREE!
Registration offers you access to all the content on the website, PLUS a daily email sent to you with the best highlighted deals. All for free!
This will become a "Godsend" as the holiday's get closer and closer.
Daily deals from large brands at 50-95% off!


BradsDeals.com is the largest editorial-driven deal website aimed to help save you time and money.
BradsDeals.com was founded by Brad Wilson in 2001 and has become the largest editorial-driven deal website. Closely partnered with over 95% of the largest retailers in the industry, BradsDeals provides readers with deals from Apple, Home Depot, Kohl's, Target and more!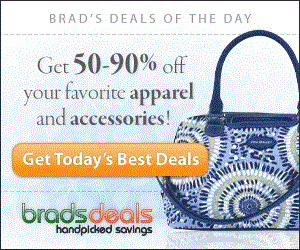 Visit BradsDeals.com to see what we've deemed to be the best deals online each day. We have a staff of deal editors that scour the internet looking for the best deals and testing online coupon codes, so you don't have to.