I especially liked today's article "Secrets of a Coupon Queen: How to Cut Your Grocery Bill in Half". This article gives practical tips and tricks to save you money on your groceries.
LearnVest is full of all kinds of helpful and informative articles, that will really help you reach your dreams of financial security.
LearnVest is FREE and easy for you to get started. When you enter your email, just look for the link towards the bottom about skipping the "linking your accounts". When you feel you have explored the LearnVest you can always go back and enter that information!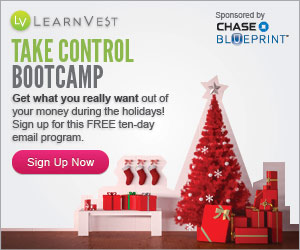 Get informed. Get organized. Get support
LearnVest's goal is to arm you with the unbiased information you need to make the best financial decisions possible. The LearnVest website is full of expert advice, lifestyle tips, the latest news and more to keep you in the know. Our free newsletters are delivered directly to your inbox:
LV Daily: Lifestyle and money tips to help you live fabulously within your budget.
LV Moms: Tips and tricks to manage your household finances in style.
The Market: An analysis of market events in a digestible chat sheet.
Plus, their revolutionary Bootcamp email programs show yo
u how to tackle your specific financial issues and get started on your path toward financial freedom.