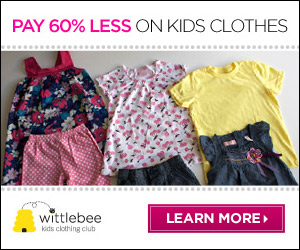 You can begin learning about Wittlebee by joining. Now you will be taken through a very short style quiz based on your needs and your child's style. You then enter your email, which will take you to a screen that shows where you enter your CC information.
You do not need to enter this CC information, as your account is already created. This is where you begin looking around freely. Some brand names include Tea, American Apparel, Calvin Klein, Small Paul, and more!
If you decide that you would like to sign up for Wittlebee's Monthly Subscription, this is how it works and what is included with each shipment:
Using your style profile and feedback, we will create a custom box just for you!
Each box includes both basics and outfits You g
et over $100 worth of retail value in every box.There is always
FREE fast shipping on your order.
Pause or cancel your membership anytime!
Subscription price is $39.99 per month shipped. This means that each item is roughly only $6.00 each. You can locate more information in the Wittlebee FAQ section.
What is nice is that you can view examples of subscription boxes, so you have an idea of what might be included in yours, before you purchase.
This would make a great gift item, especially for family and friends that live far away. The option to gift the subscription is offered on Wittlebee's website.
You can use coupon code
BLUUM to get $15.00 off your first order!
Here is a snippet of the email I mentioned about wanting to focus on current customers and orders. And that the last time you can join is this Sunday!